For Android smartphone users, there are a few cases when a factory reset is strongly required. The most common one is that you are going to sell or give away your Android phone to someone else. In addition, the phone is functioning abnormally or running very slow, which could not be fixed by a restart, then it is also worth a factory reset.
We are going to share all possible ways to factory reset Android phone. Each one has it own pros and cons. Please read the introduction and steps carefully and choose the best one based on your personal case.
Method 1: Factory Reset Android Phone via DroidErase (Safest)
If it was the first time you heard about DroidErase, then you should pay attention to it when it comes to factory reset. FoneMoz DroidErase is one of the dedicated applications for securely erasing data from Android phone and tablet. The best part of this program is that the data wiping process is done permamanently. This means there is no chance to recover any deleted data from Android phone after using DroidErase. Basically, it is the safest way to protect your sensitive data if you decided to sell or give away your Android phone.
If privacy is your major concern, then you should use FoneMoz DroidErase to factory reset Android phone more throughly. Below is the full tutorial on how to use this Android data erasing software.
Step 1 – Software Installation
If you want an easier approach to factory reset Android phone; let it be handled by FoneMoz DroidErase. Download the software from above link and install it on a computer.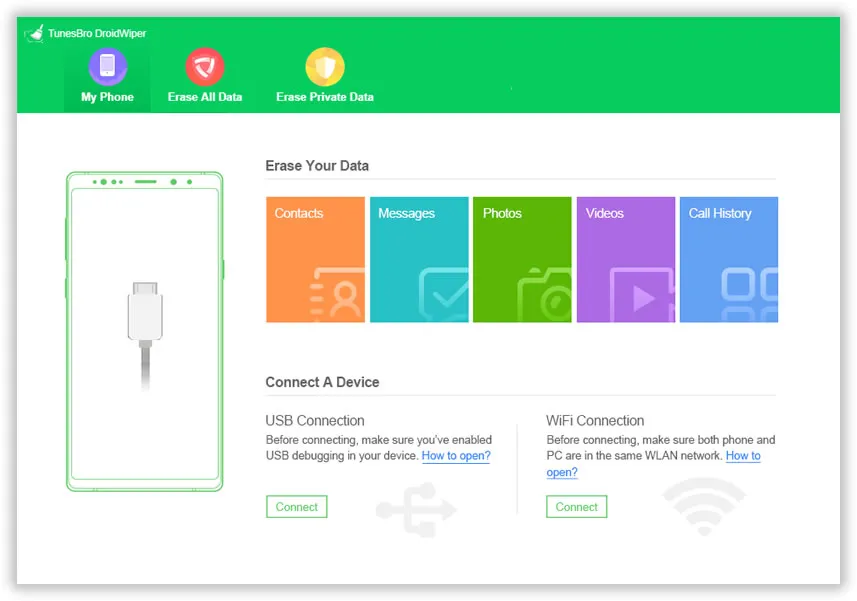 Step 2 – Connect Android Phone to Computer
Now it's time to connect Android phone via USB cable and this software automatically detects your phone. If it failed to do so, please turn on USB debugging on Android phone and make sure Android device driver is installed on the computer.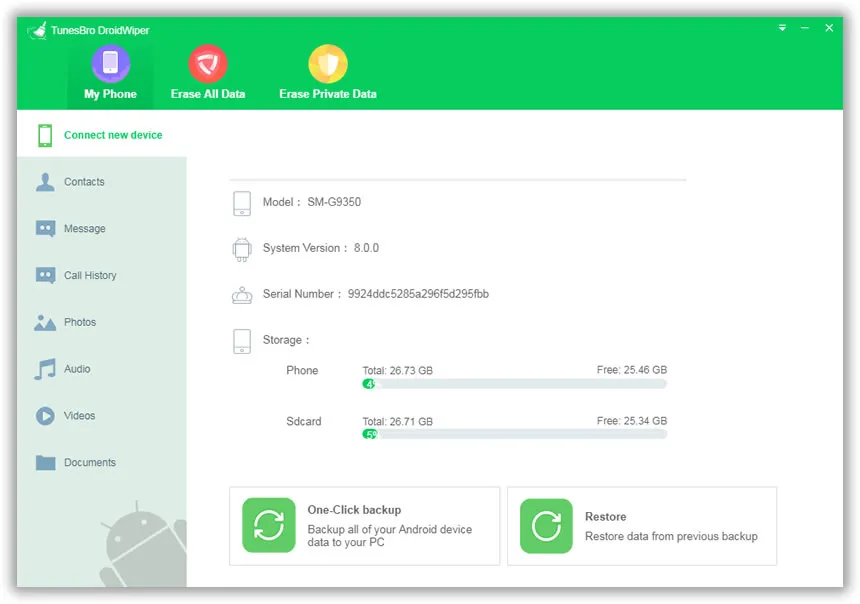 Step 3 – Scan Data on Android Phone
Click Erase All Data tab from top menu to let the program fully scanning and analyzing personal data and apps on the device.
If you want to clean something specific you can do that here, you get to choose from Contact, Messages, Photos, Videos, and call history. Other than that you can erase all your content that includes settings from Android devices, it is usually more secure than factory reset.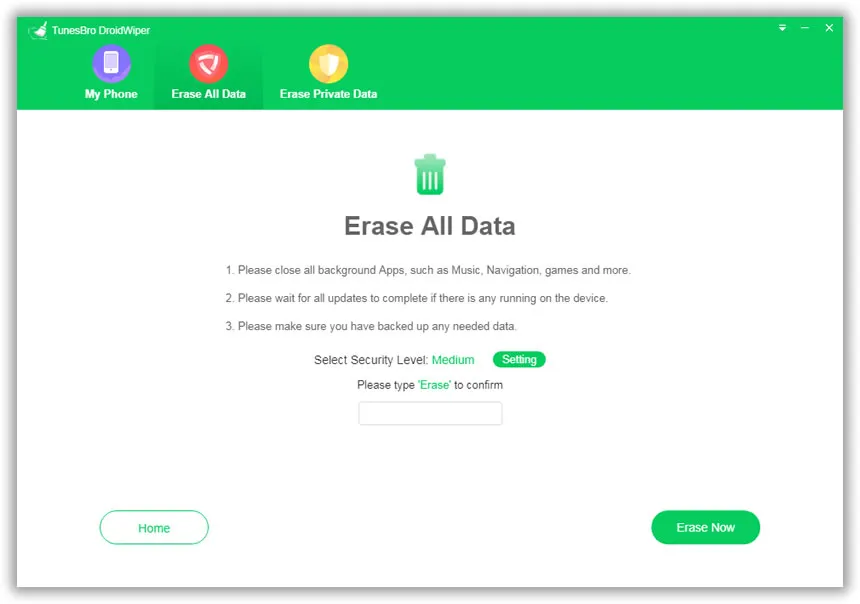 Step 4 – Factory Reset Android Phone
Once the scanning process is finished, type "Erase" in blank field to confirm this data erasing operation. Now DroidErase starts to delete everything on the phone. And you have to wait 5-10 minutes, which depends on how much data it is saved on that device.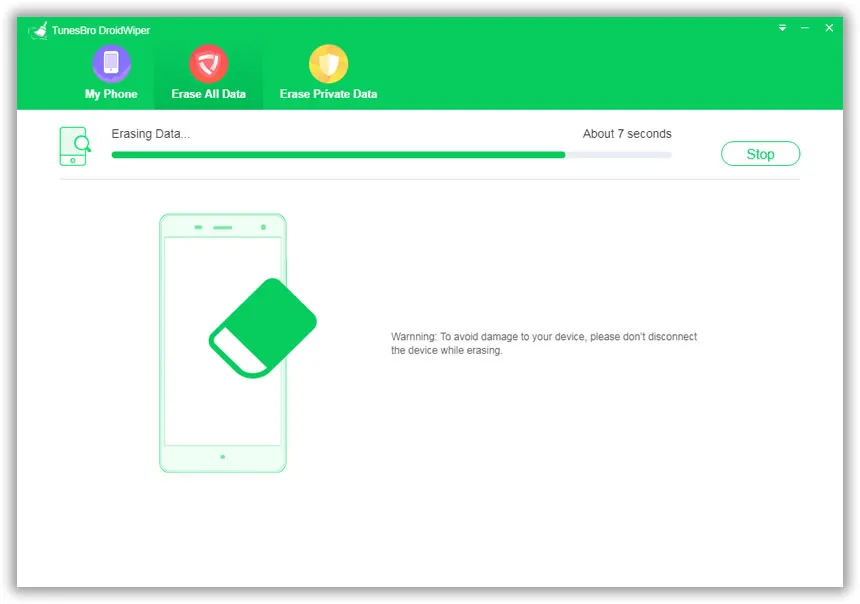 After fullfilling the above four steps, all data on the phone are wiped cleanly. And it is safe way to resell or trade in the device to someone you don't know. Don't worry about your data as there is no way to retrieve any information from the phone even he or she is a top-notch hacker. That's why we recommend FoneMoz DroidErase in first position.
Method 2: Softly Factory Reset Android Phone
When your Android phone is usable and working, you can just open your phone settings and look for factory reset options in that case. Once you find factory reset options you get to choose if you want to clean internal storage or not. This kind of reset is called a soft reset because you are doing it through the phone settings. This method is similar to the majority of Android version and it's a core function regardless of the phone manufacturer.
Step 1: Open up your phone settings, find Reset Options. Use the search option in settings with strings like "reset" or "erase data".
Step 2: Once you find the factory reset options, do a factory data reset, optionally you can erase internal storage which removes everything on your phone.
Note: The screenshot is taken from Samsung Galaxy, other phones have a similar approach for this purpose.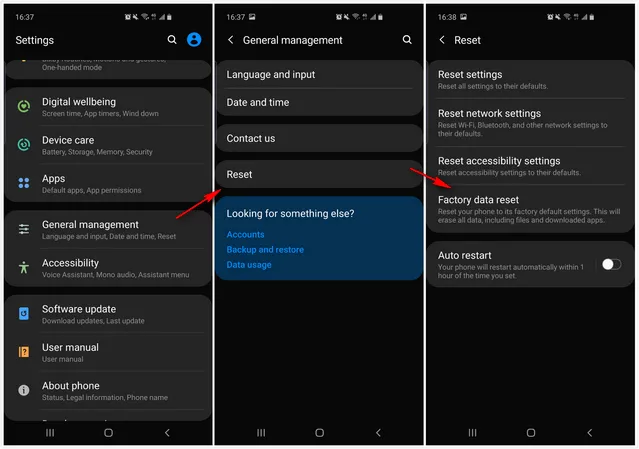 The problem with soft factory reset is that the deleted data is still kept on the phone. It will be removed only when the new coming data overwrites the existing one. So it is still possible to recover data from the phone. You should be awared of this fact.
Method 3: Factory Reset Android Phone in Hard Way
When Android OS is not booting or some weird issues arise you should try a hard reset instead. In this way, there is no need to get into the phone because this is done in Android Recovery mode. However, it could be possibly brick your phone if it was done mistakenly.
Step 1. Press the Power button and Volume key combination and hold them for a couple of seconds, a recovery menu opens on your phone. The combined keys are different from brand to brand. If this one does not work, please search it using your brand name.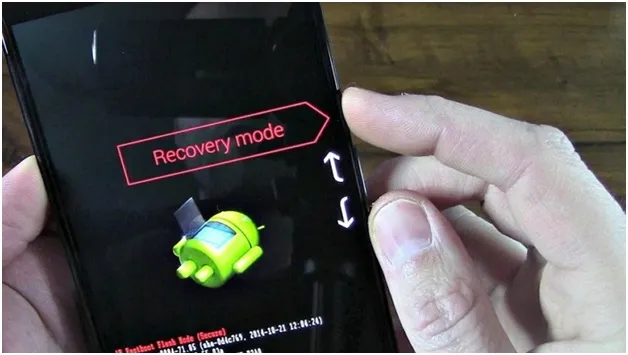 Step 2. There are several menu appearing on Android system recovery section. Please select "wipe data/factory reset" option that makes everything back to default but remember that you will lose everything on the phone including pictures, photos, and other data. You can do this via Volume keys.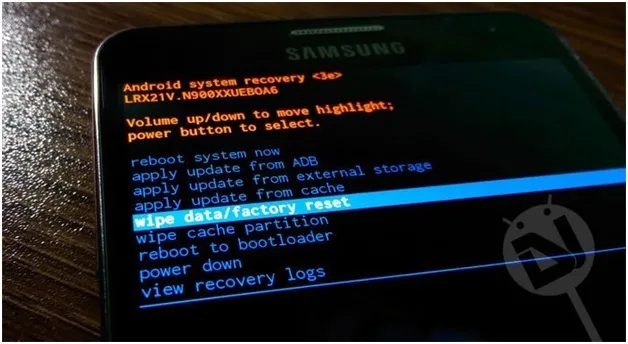 Step 3. You have to confirm this risky operation in next screen. Please select "Yes -- delete all user data" using Volume key and confirm with Power key.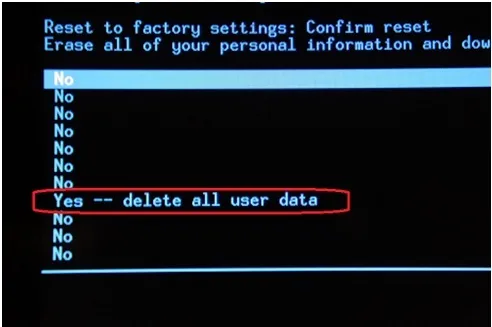 Use this approach when you can't factory reset your device from Settings and this method works on the majority on Android phones including phones from Oneplus, Xiaomi and Samsung. Also, it can be applied to factory reset Android phone without password when the device is locked.
Method 4: How to Factory Reset Android Phone from Cloud
Luckily, Google Device Manager can locate, lock and factory reset Android phone, you just need to sign-in with a Google account on your Android phone. Once you do that you can track it from anywhere, make it ring, or other things. One feature Google Find my Device has is "secure up and erase" which cleans everything on your phone remotely. Normally that's something you'd do when you lost your phone and there might be the slightest chance that it'd still have internet connectivity. You can secure it and wipe everything on it so no-one can access your personal stuff. But generally, you can factory reset the phone even if it's not lost.
Step 1. Open up Google's Find my Phone page (https://www.google.com/android/find).
Step 2. You need to log in with your Google account and remember the same account would be signed in on your Android phone. You might be asked to login again for security purposes.
Step 3. Select the phone you want to reset, you should be able to see pieces of information like carrier name and battery percentage.
Step 4. Now look for ERASE button which will delete all your content from the device. Since it also removes the Google Account, you won't be able to locate it anymore.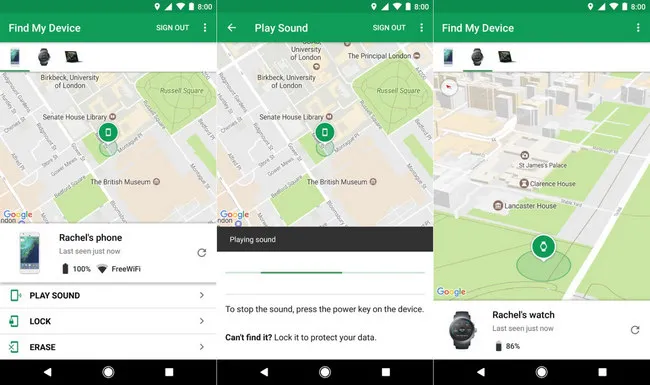 You'll be asked further before google sends singles to your Android phone to erase everything. This is a very useful method when your Android phone got lost or stolen. However, the phone should be connected before data erasing starts.
Conclusion
Sometimes a force restart won't do justice if you messed up your phone. A factory reset will help you set things as they were when you first started the phone. Luckily there are many types of factory reset. First being the safest where you clean all the files and set everything back to normal is called FoneMoz DroidErase. Second is the soft reset that comes with Android OS, which is the easist. Third is hard reset when you reset your phone through recovery which cleans everything on your phone including photos, videos, and other data; that may or may not include internal storage as per your preference.