We regularly review the best Android apps for our users so they don't have to do their own research. Our objective is to write balanced reviews that are actually useful to consumers that are deciding whether or not to use a particular app on Android device. To that end, we have recently looked into the best Android cleaning apps in 2019, and this is our final list. Each review is divided into three sections: best aspects, how to use and cons. We hope you find this information valuable.
Why Do You Need an Android Cleaning App? In terms of memory availability, Android devices are only limited by the ability to extend external memory to a certain point using a microSD card. However, internal memory is an important component of performance. Certain apps can't run off a card, which means your internal memory is going to take a hit.
Moreover, apps tend to build silos of data that they store as logs or for quick access. That data might be useless to you, and it ends up clogging the memory so badly that your device performs sub-optimally. It becomes sluggish, there's a huge delay between a finger gesture and the reaction on the screen and so on. Android cleaning apps help you avoid that pitfall and keep your device clean and running like new. However, you need to erase android phone completely before selling. So without further ado, let's take a look at the 7 best Android cleaning apps in 2019. This list is not in any particular order. You get to choose the one you like!
Best Android Cleaner App 1: GO Speed (Without Ads)
GO Speed might not be the most popular, but it deserves attention because it claims to be 50% more efficient than most other Android cleaning apps on Google Play. The best feature is its ability to prevent apps from auto-starting, which can really slow down Android device. It also deep-dives into the system to root out temp, cache and other junk files like thumbnails, letting you do a thorough periodic cleanup. There's an option to enable a floating widget that you can use to do a real-time check on memory status. It's a lightweight app - only 9.26 MB - so it won't hurt your available memory in any significant way.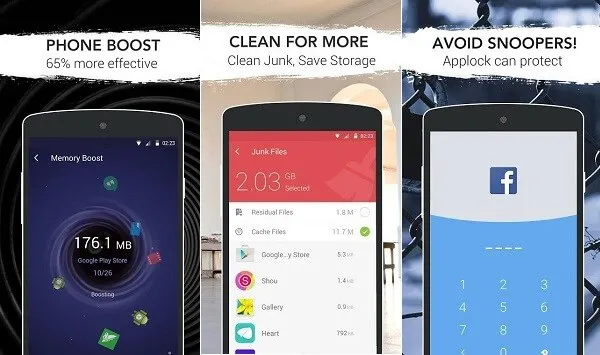 How to use GO Speed: Once installed, the app is pretty intuitive. There are options for junk cleaning, pre-installed app termination and the BlackHole Speed Booster function for killing background apps. You can also try the app lock for greater privacy, an app manager to handle infrequently used apps and a smart on-screen widget that's barely noticeable, so it won't affect app icon visibility.
Cons:
Frozen sometimes on old Android phones
Not working properly due to permission issue
Keep crashing all the times on certain Android devices
Best Android Cleaning App 2: All-In-One Toolbox
All-In-One Toolbox is a highly rated app (4.7 out of 5) with more than half a million reviews and more than 10 million downloads to date (the developer claims 50 million downloads.) The app has more than 30 built-in tools to clean junk, manage apps and give your Android device a longer battery life per charge. Power users will love the WiFi Analyzer, the CPU Cooler, Batch Installer/Uninstaller, APK File Cleaner and other tools that keep your phone running like new, and newbies will find it highly intuitive. It even features a file explorer and a big file finder so you can see what files are taking up the most space. The app itself is very lightweight (7.8 MB) but extremely powerful for its size.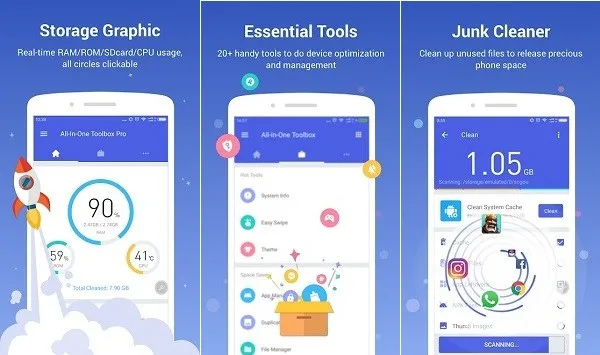 How to Use All-In-One Toolbox: After installation, you can scan your device for all the unnecessary files that are clogging up your phone and clean them up right away to see an instant boost in performance. The Magic Toolbox contains a plethora of tools that you can try out as well. Just click on the icons for whatever function you'd like to execute, and you'll see the progress as it reaches 100%. You'll be done in no time.
Cons:
Not all the features are free
Too complex for users who only need junk cleaning features
not as fast as other cleaner apps like Super Cleaner
spam homescreen with floating ads in latest version
Best Android Cleaning App 3: CCleaner
With more than 50 million downloads on Google Play, CCleaner is one of the most popular cleaning apps for Android that you'll find. This is developed by the same team that makes the PC and Mac versions, and the Android app is equally comprehensive. It's great at finding junk, and it even identifies certain unused language files that you don't need. A newly added App Stats feature shows you what kind of impact each app has on the device's resources, so it's a great way to get a snapshot of what's taking up the most power, RAM and so on. The app has a Task Killer feature that stops running tasks, and you can prevent them from starting up again using the App Hibernation option. Doing this will instantly boost the speed of your Android device and keep it that way until you manually open those apps.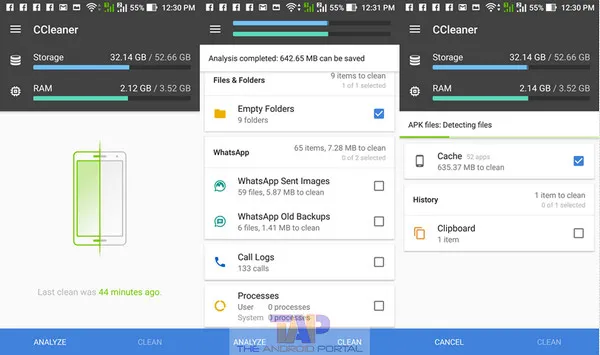 How to Use CCleaner for Android: True to its category, CCleaner does nearly everything with just a single tap. No navigating complicated menus or anything - just select the feature you want and tap on it. The app takes care of the rest. The menus are clearly laid out at the top, and going to each tab gives you several options for cleaning memory, controlling app behavior and so on.
Cons:
Too many reminders to clean the phone, even after you've just done it
Cache is sometimes not fully cleared, but the app shows that it is
Ads are a little intrusive in the free version, forcing you to upgrade
Frozen duing cleaning junk after the recent update
Best Android Cleaning App 4: DU Speed Booster
DU Speed Booster is used by more than 230 million users, according to the developers. Although primarily a speed booster, the app also lets you clean your memory and free up valuable space. It includes an antivirus module and an app lock feature for security and privacy, the former of which is only available on a few cleaner apps. There's even an option to kill apps that use up a lot of network resources so you can speed up your active apps. The Swipe feature is very useful because it allows you to switch quickly between apps and system settings. The Smart Charge feature tells you how much time to a full recharge, and you get your notifications right on the screensaver so you don't miss anything important.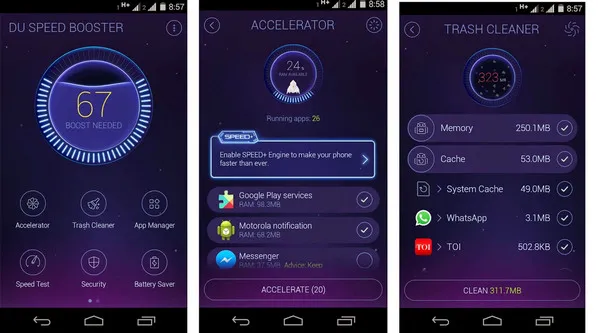 How to Use DU Speed Booster: The dark theme gives high contrast to the text content in the app so it's easy on the eyes. Once installed, you just click on the Start button to do a full scan of your device. After that, you either do an Overall Boost or just pick the components you want to run, like Phone Boost, Security, Battery Saver and so on. There are about 10 such individual modules, each with a different function. You can also swipe right from the left edge of your screen to quickly navigate between two modules. It's super-easy to use, and you'll get the hang of it in no time. You'll also see their other apps promoted on various pages, but this is mainly for advanced users.
Cons:
Ads occupy a lot of space on the screen
App lock does not work proparly sometimes
Alerts are often exaggerated
Best Android Cleaning App 5: Super Cleaner
Another Android cleaning app that comes with antivirus built in is Super Cleaner. With more than 100 million users worldwide and a star rating of 4.7 out of 5, this is probably one of the best phone cleaners on Google Play. One of the unique features is the Game Booster, which the developers say will "boost gaming experience by 30%+". Games are notorious for using up heavy resources, so if you're an Android gamer, this is the app for you. In addition, it contains all the usual tools like Junk and Cache Cleaner, Phone Boost, App Lock, CPU Cooler, Battery Saver, App Manager, etc. User interface is intuitive, so the learning curve is not at all steep. Scanning and clean-up activities were found to be faster than other cleaner apps, with no noticeable difference in efficiency or thoroughness. It even offers its own browser for private browsing (similar to Incognito Mode in Chrome.)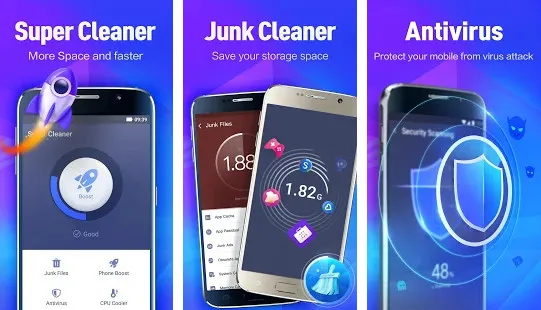 How to Use Super Cleaner: Easy navigation takes you from the home page, where the phone is first scanned, into the inner pages where the various functions reside. It's mostly a one-tap requirement for each of the tools, and the naming convention used makes all of them self-explanatory. That means you can get a full clean up done in just minutes after you install the app on your Android device.
Cons:
Doesn't clean any apps cache on android 8.0
Fake display of junk files cleaning
Get annoyed quicky with multiple ads and pop ups
Best Android Cleaning App 6: Avast Cleanup & Boost
Avast Cleanup rides on the name of its developers - Avast Software. Great user reviews, and it offers a special tool for optimizing your photo library. It will tell you which ones are similar or bad, and give you an option to review and delete them. The RAM Cleaner is a great way to control background apps, and you can simply put it on hibernation so only the manual opening of the app will disable the feature. One aspect of this app that we really liked was that the developers have benchmarked the performance of the app, so you know that you can clean up as much as 12 GB of useless data, or get 70% more life out of your battery per charge.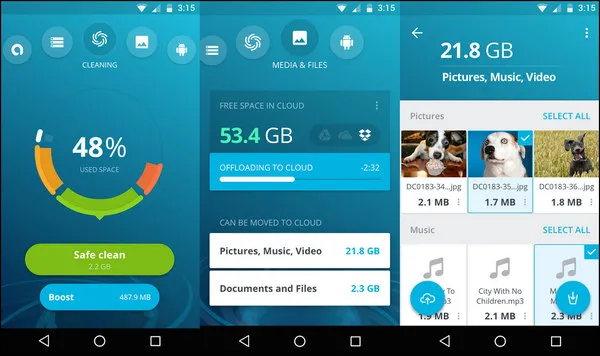 How to Use Avast Cleanup & Boost: Once you install the app and hit Get Started, it'll ask if you want to continue with the free version or upgrade to premium. Device analysis takes a bit of time, which is a good thing since it does a thorough job. Once scanned, it will give you three initial tips to boost your phone's performance. This feature is unique to cleaner apps and offers a better user experience, in our opinion. You can execute the tips or just go back to the home screen and choose the module you want, such as Boost Memory, Quick Clean, Photos, Apps and Battery. If you go premium, you have access to ad blocking, automatic cleaning, live support and more features. There's also a Pro Plus, which gives you SIM Security, a Camera Trap and other advanced tools.
Cons:
Limited features on the basic free version
Ads on nearly every page you navigate to
Best Android Cleaning App 7: Clean Master
By far the most popular cleaner app for Android, Clean Master has been downloaded by more than a billion users worldwide. With a star rating of 4.7 out of 5 from more than 44 million users, this is one cleaner app that you can't ignore when you're looking for the best ones. Game Master is a must-have feature on every Android gamer's phone, and it even includes some games of its own. The cleaning and boosting features are second to none, and you can see a perceptible improvement in device performance once you've done a basic clean-up of junk, cache, temp and large files. The certified anti-virus feature will protect your device from unauthorized access, and there's a WiFi detector to prevent connections to unsafe networks. New features include a rehashed junk clean engine, voice interaction on the lock screen and a greater level of personalization.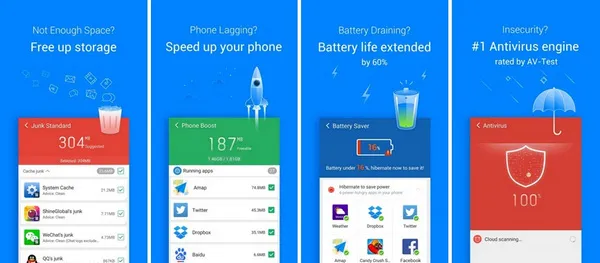 How to Use Clean Master: The home page shows you a snapshot of your phone's memory and RAM stats. You can use this to determine what to do first. For example, clicking on Junk Files will initiate a deep scan and display all removable files. It also checks for app residues and obsolete APK files you no longer use. Remove them, and head back to the home page to access the other features. You can then tap on Boost Phone to clean RAM, cool down the CPU or boost your gaming experience. The modules are easy to understand, and everything is done with just one tap.
Cons:
Intrusive notifications on by default
Glitches with other apps after installing Clean Master
Eat up more battery
Conclusion:
There are more Android cleaner apps in Play Store that we could not make a review at here due to time limitation. The above suggestions are good enough for junk clean and performance boost. However, the biggest issue is the ads complaint. We are not running against ads especially the app is free but users can not accept an app full of ads and stays at there from time to time. Personally, I prefer paying a few bucks if the app were excellent.