Samsung upgrades its flagship smartphone each year and many loyal fans switched to the latest flagship when it is available. This is a pretty common scenario in today's consumer behavior. How to deal with the old Samsung phone? For most people, they choose to sell it online or recalled by Samsung official to get some extra cash.
Before selling the old phone, you should wipe the phone completely so no one could find a single piece of information on that device. In this post, we recommend three different approaches to help you completely wipe all data on Samsung phone without much hassle.
Part 1: Preparation before Wiping Samsung Smartphone
The following method introduced in below will delete all personal data and files on Samsung phone. It is a dangerous move in regards of data security. So before you are moving forwarded, there is a couple things to be noted.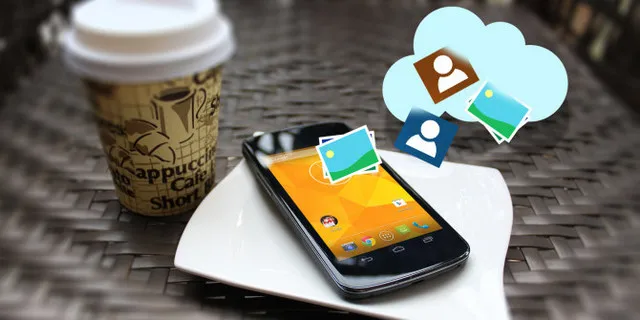 Migrate Data to New Phone: It is advised to sell the old phone before successfully migrating all data on old phone to the new phone. A lot of apps can do this. As for Samsung smartphones, Smart Switch is the default app to transfer data from old device to the new one in a simple manner. After that, the new phone is just a clone of old device.
Backup Important Data on Old Phone: We have a lot of personal information stored on a phone, such as contacts, photos, recorded videos. We need to make sure they are backed up to an secure place. It could be a PC or cloud storage.
Take out SIM or SD Card on Old Phone: Don't forget to take out the SIM or SD card from the old phone. I have seen a couple of cases where the SIM card is still there when receiving the old phone. This is very dangerous for privacy.
Remove Sign-in Account: Usually, a Google or Samsung account is associated to Samsung smartphone in order to use Google apps. Please log out the account and disconnect the device from that account.
Uninstall Apps with Sensitive Data: Some of the apps contain sensitive data of the users, such as bank apps, PayPal, eBay, socia media apps. Please delete the apps before factory reset.
Part 2: How to Wipe Samsung Phone Completely by Factory Rese
If you have been using Samsung phone for a while, you are probably familiar with the term factory reset. It is a native Android feature that lets you reset phone to factory resettings. This means it also gets rid of all your data and wipes clean your Samsung phone. It is often used as a last-resort troubleshooting measure.
Over time, our phones get loaded with a lot of unnecessary software which might come with their own bugs. The factory reset gives you a chance to start fresh. However, before opting for a factory reset, make sure you backup all your data to a computer or cloud storage.
The last thing you will need to do before doing a factory reset is getting rid of something known as Factory Reset Protection. This is a feature that prevent unauthorized users doing harmful activities on your phone, such as factory reset. This feature has been incorporated in all Android devices beginning with Lollipop. You have to disable this feature on your phone before facyory reset.
Step 1. Open Settings app on Samsung phone and go to General Management > Reset. Tap on Factory data reset and follow the instructions to completely delete all your phone data. Once it has finished erasing, choose the option of restarting your phone.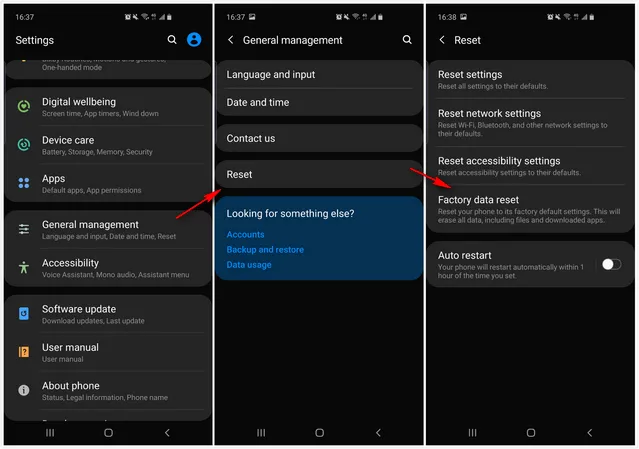 Step 2. Scroll down the screen and tap Reset option at the bottom. Make sure you backed up all data on that phone.
Step 3. The phone will reboot automatically and you have to input the Google account password to perform the data reset if Factory Reset Protion is enabled on the device.
Step 4. Wait for the data erasing process and the phone will be set to factory settings a few minutes later.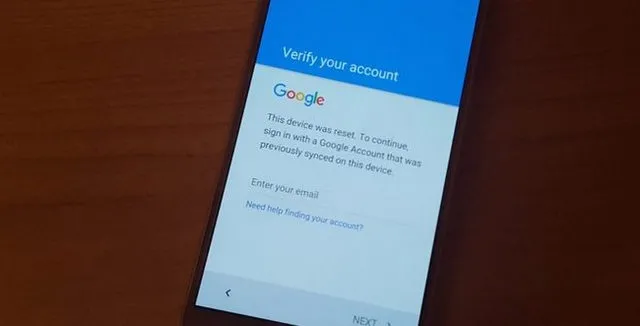 Factories reset works well if you want to do a simple wipe job on your phone and aren't too worried about security. But one fatal issue with factory reset is that even the most basic recovery app has the potential to recover wiped data from Samsung phone. If you are looking for a stronger level of security, you'll need to take a look at FoneMoz Android Eraser
How to Permanently Wipe Samsung Phone with Android Data Eraser
Factory reset is the simplest means to erase data on Samsung phone. It should be fine in normal cases but it is risky as your personal data could be fallen into wrong hands if the next owner knew about data recovery. To permanently wipe a phone clean, you need to use some professional software to do this.
FoneMoz Android Eraser is a simple and yet powerful tool for erasing all your phone's data. It offers a very high level of performance and should be your go-to choice. The best part about this software is that once you clear any data from the phone using the highest deletion level, no recovery software will be able to retrieve the data. That means utter and total privacy for any deleted information.
No chance to recover data after factory reset.
Three data erasing mode available.
Military based data deletion technology.
Support 1000+ Android smartphones and tablets.
Step 1 – Download and Install FoneMoz Android Eraser
To make it work as expected, the first step is to download the setup from this website and install the software on a computer with the default installation wizard. After that, open the program from desktop shortcut.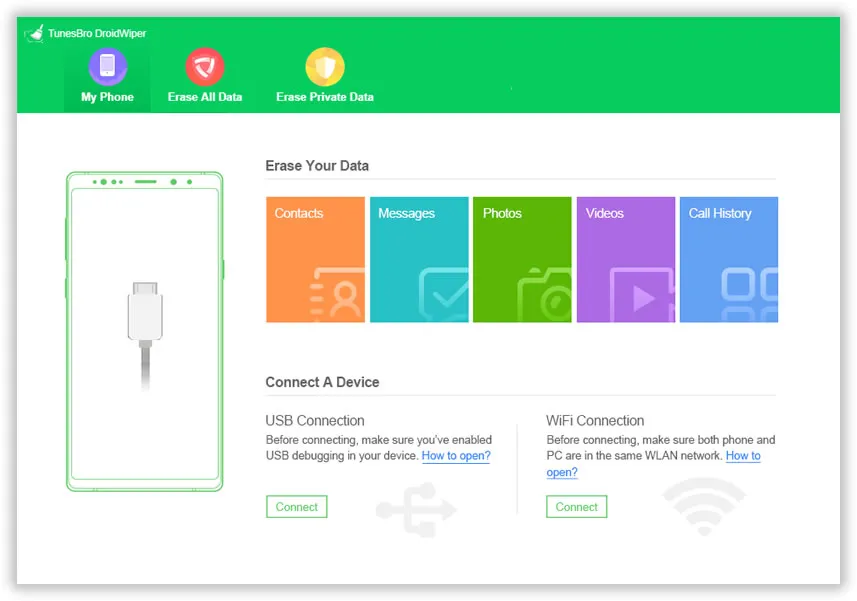 Step 2 – Connnect Samsung Phone to Computer
Use a cable to connect your Samsung Galaxy device to the computer. USB debugging should be turned on. If not, the phone name won't show up in the computer.
Once the phone is deteted, the FoneMoz app will be installed on your Samsung phone automatically. Please grant the permission the app asks in order to make it work.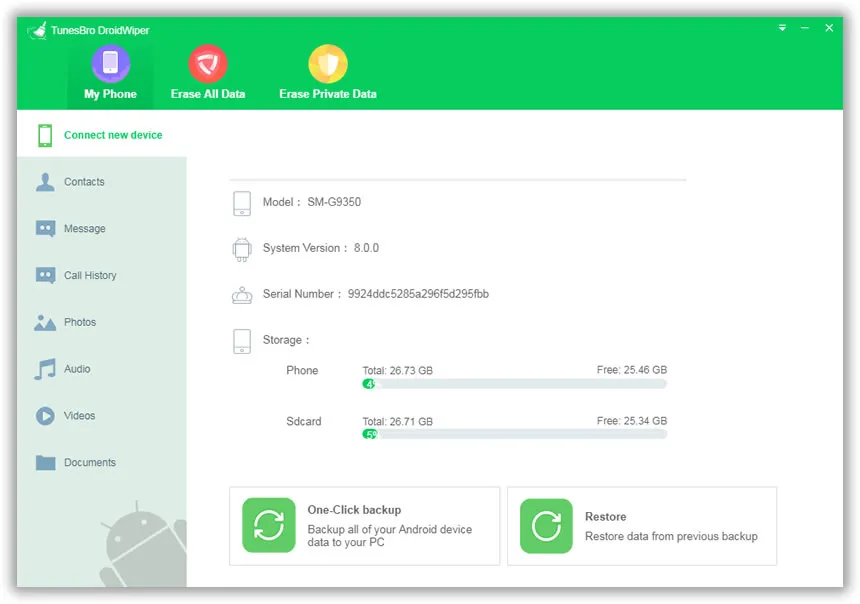 Step 3 – Choose 'Erase All Data'
There are three types of data wiping engines available: Erase All Data, Erase Private Data and Erase App Data. Each option is applied to certain situation.
To wipe Samsung phone completely, please click on Erase All Data tab on the menu bar. By selecting this, the software will wipe the phone cleanly and no one could retrieve any data from the phone.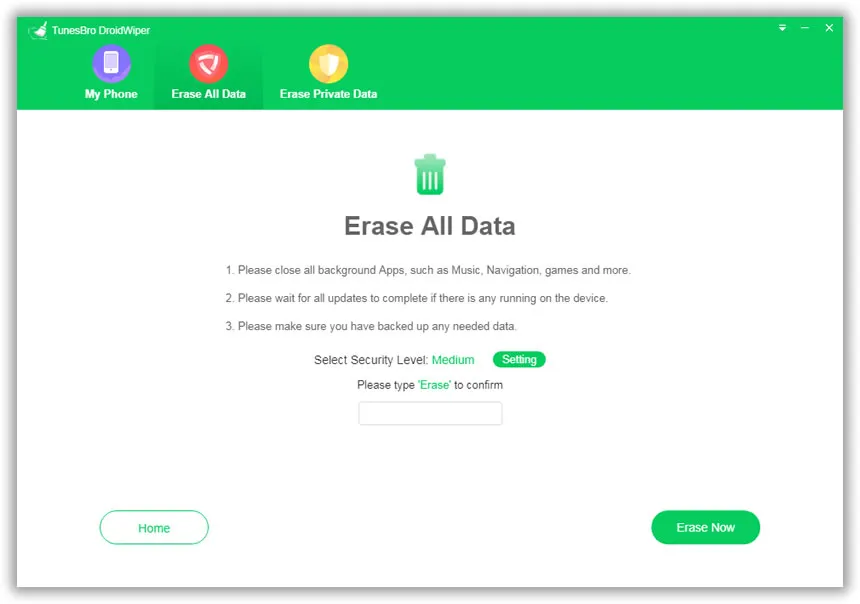 Step 4 – Start Wiping Samsung Phone Completely
The program asks you to confirm the operation before the data wiping starts. Please type the word 'Erase' in corresponding column in order to initial the data erasing process. You will see a progress bar shown on the screen. When it goes to the end, it means the data wiping task is completed successfully.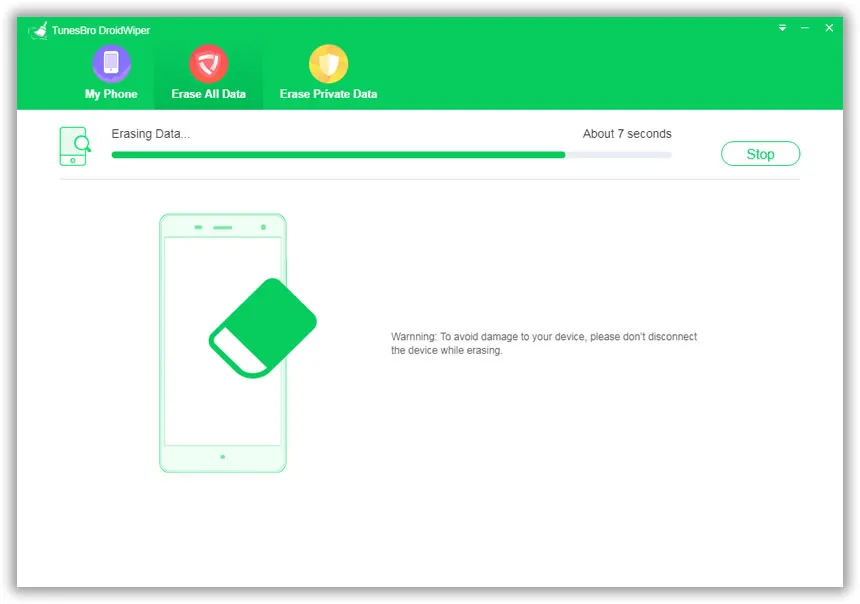 The biggest advantage of FoneMoz Android Eraser is that it understands your needs. It works hard to delete everything from your phone beyond recovery so that your data never falls into the wrong hands. What's more, it offers three erase options, which are extremely useful along with three different wiping algorithms.
Part 4: How to Use Find My Phone to Wipe Samsung Phone
Samsung has a native app called Find My Mobile that lets you remotely wipe out all your data. It is essentially used when you lose your phone and wish to delete your data remotely so as to prevent it from falling into the wrong hands. Here's how it works.
Step 1. Open your Settings and go to Biometrics and security.
Step 2. Here, you will see an option for Remote Controls. You might now need to login to your Samsung account or create one if you don't have an account.
Step 3. Now, you simply need to switch on the option for Remote Controls.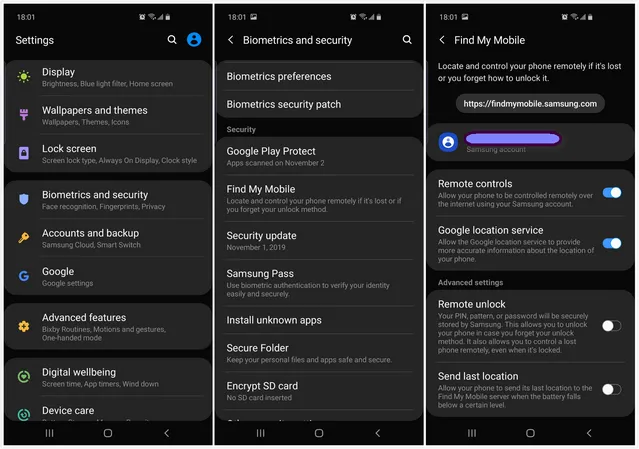 Step 4. Go to the Find My Mobile website (findmymobile.samsung.com) from a computer or phone browser.
Step 5. Login to your Samsung account and select the device you want to wipe and click on Erase the data .
Step 6. You will now be presented with two options: Wipe the removable storage data or Factory reset. Make a selection and continue the process. Click OK to confirm and wipe your phone.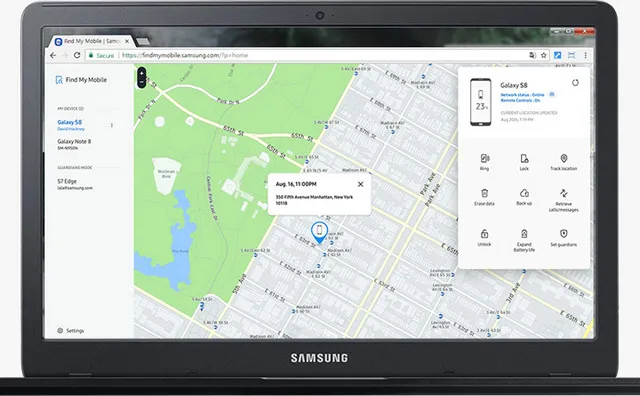 Find My Mobile also does a good job of cleaning up your phone in a pinch but it faces the same issues as factory reset. It never cleans up your device completely, leaving it vulnerable to simple cleaning apps. Our second option offers you a better level of data wiping.
Conclusion:
Most people knows wiping Samsung phone using the default factory reset method and seldom knows what's the potential risk of it. For permanent and secure data wiping, FoneMoz Android Erase is recommended. It writes random data flow to the device memory, making it impossible to recover any data from the phone. Samsung Find My Mobile service is the best solution when the phone is lost and you want to protect the data on the phone.