Android is one of the most powerful Mobile OS. It gathers and stores a lot of private and confidential information during the whole life circle. Selling the device that might open you up to all sorts of security risks, not to mention throwing your privacy to the wind. For that reason, it's always prudent to wipe Android completely to erase all sensitive data before selling or giving away.
Part #1: Why Data Privacy Matters?
Your Android phone or tablet is very likely to have been used for emails, online shopping and other online activities. In addition, it also contains personal photos, video clips, audio recordings and other files that you don't want to share with others. The data can be easily hacked for criminal purposes, like transferring money from your banks, using credit cards for online purchases and even stealing your very identity. That's the reason data privacy is such an important consideration, and that's exactly why you need to erase your Android phone the proper way to prevent violations of that privacy. But how?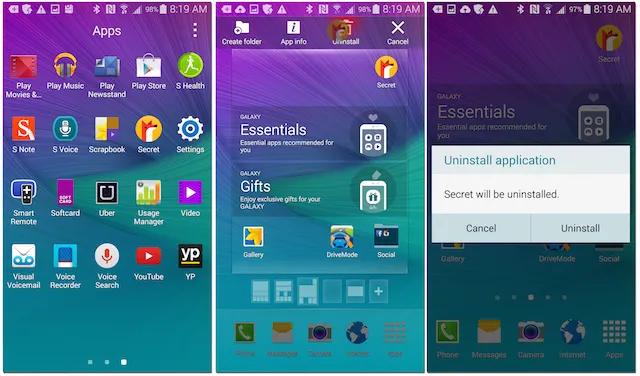 Most people think that a factory reset will restore the device to its original state and wipe all personal data on it. That might be true to a certain extent, but it doesn't mean the data is not easily recoverable. Anyone with a decent data recovery tool will be able to hack your information in just a few minutes. The truth is that a factory wipe will only remove certain types of access to that data. That means you won't be able to search for and find it with file managers or similar utilities, but the data is still there to be found by recovery programs.
Part #2: How to Wipe Android Phone or Tablet from PC or Mac
The best thing to do is to use a purpose-built application that can overwrite your data in such a way that it is 100% unrecoverable. Not all software tools can do that, but if you use something like FoneMoz Android Eraser, your data is guaranteed to be gone forever. FoneMoz uses military-level encryption and advanced algorithms to overwrite personal data at least three times to make it absolutely unretrievable. There are also Medium and Low level wiping options, and all of them are highly effective against recovery attempts by anyone, including the federal agaents or sophisticated hackers.
FoneMoz can erase apps data, all private data or all the content on a Android phone or tablet. The different options allow you to pick and choose what goes and what stays, giving you firm control over your data privacy once again. The best part is that you don't need any technical expertise to use it. Just follow the steps below and you're all done.
Permanent deletion and 0% chance to be recovered.
Flexible to choose what types of data to be deleted.
Free up more storage on Android and boost performance.
Support the latest Android 9.0 and 1000+ Android devices.
Step 1 – Grab a Copy of FoneMoz Android Eraser
Before going into the details, please first download and install FoneMoz Android Eraser on a modern computer. It can be a Windows PC/laptop or Mac computer. You will see the following screen after installation.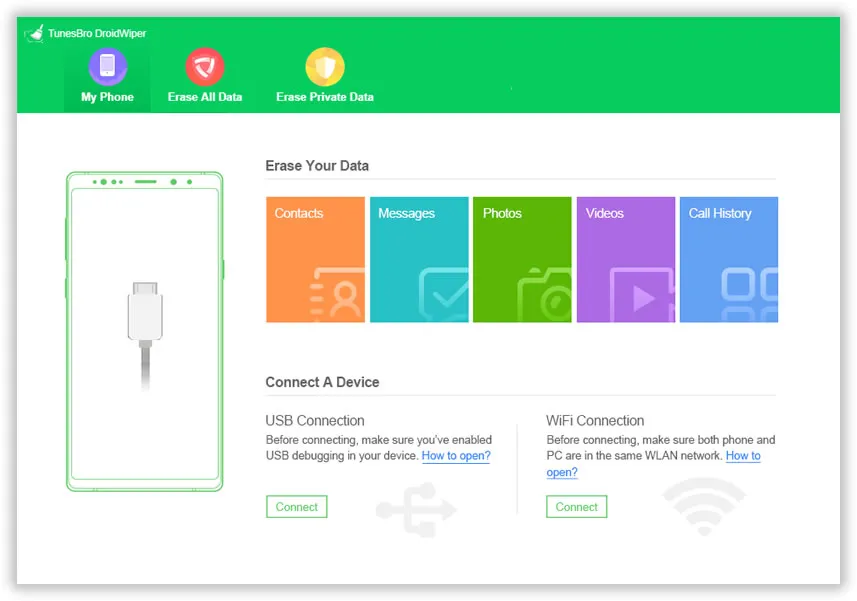 Step 2 – Connnect Android to PC or Mac
Make sure Android USB debugging is enabled. This is a must step in order to get the device found by computer or the program. Once done, plug the Android device to computer via USB cable. And you can see summary of the device, such as storage, battery life and Android version.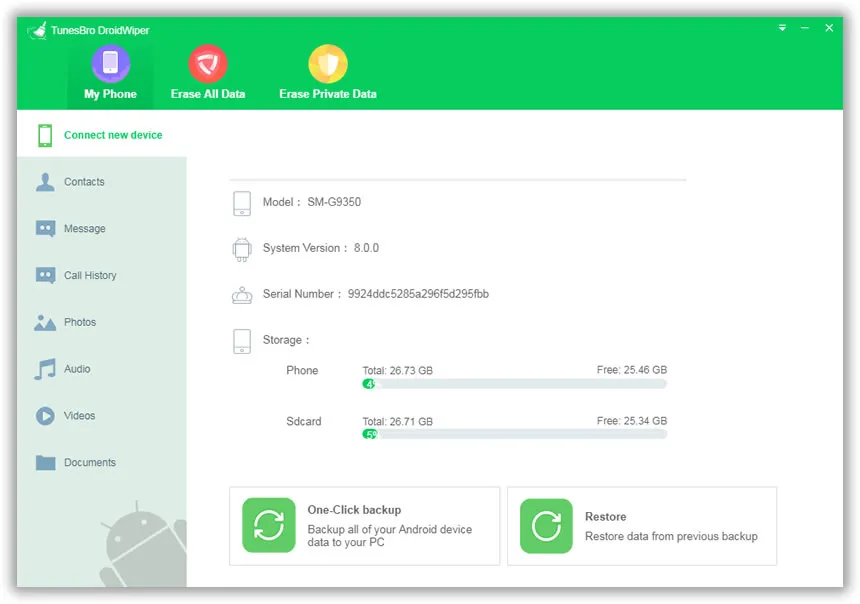 Step 3 – Pick up Data Erasing method.
Generally, there are 3 types of data wiping modes available on FoneMoz Android Eraser. To wipe an Android clean, you should choose "Erase All Data" option from the top menu bar. Now click "Erase" button.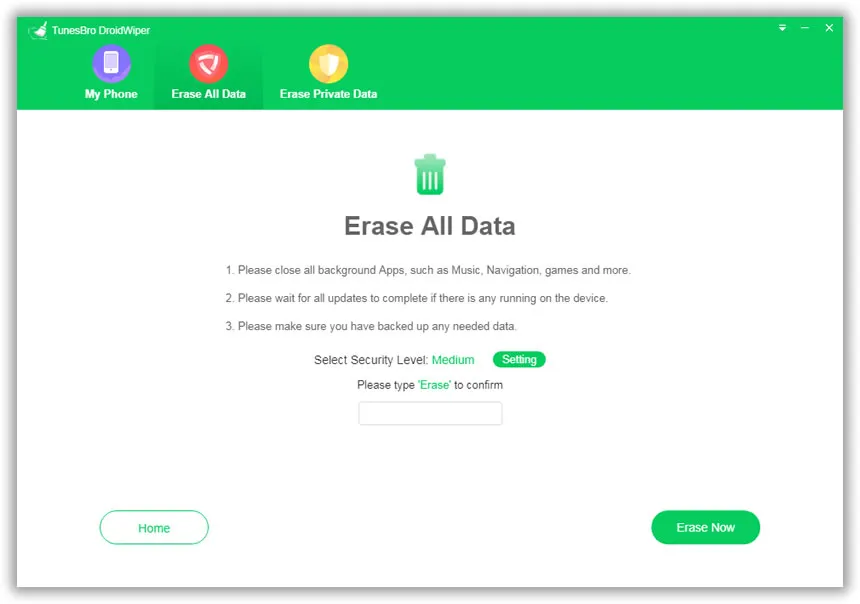 Step 4 – Start Wiping Data from Android
You have to input the 'Erase' to confirm the operation. The data will be deleted forever, so make sure you have backed up the data before proceeding.
The default security level is set to Medium, you can change it accordingly. The higher level being choose, more secure it is. However, more time is consumed. When the wiping process begines, keep the device well connected and wait for the completion.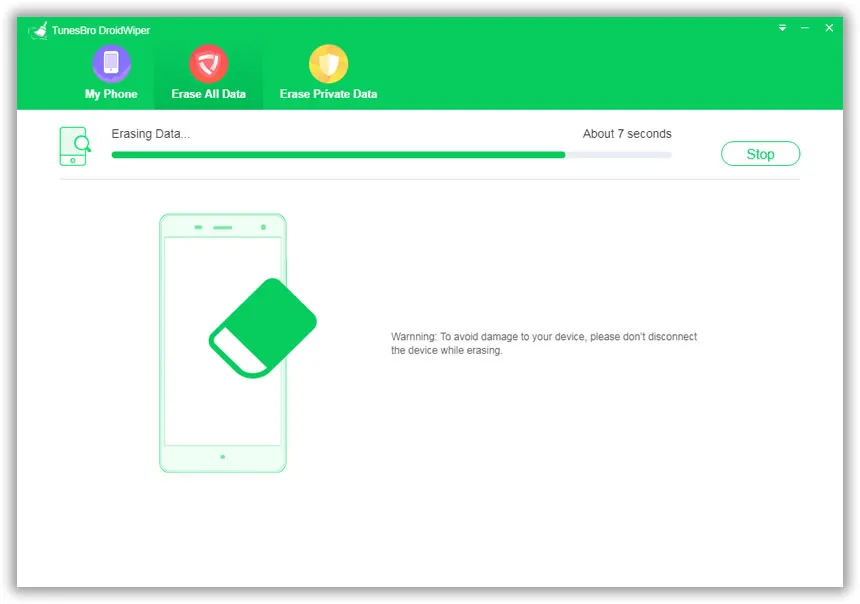 It could take a few minutes depending on how much data you have on your device and the type of deletion specified. After this, all data on Android will be gone forever. However, your phone is now completely devoid of any personal information, and you can sell it to whomever you want.
Part #3: Encrypt Android Memory and Wipe Android via Factory Reset
Another way to protect your data is by encrypting the internal memory on Android. You can use this method if you're not selling it, but you don't want the data to be accessed if the device itself gets stolen or lost.
Modern versions of Android come with default encryption turned on when you use a screen lock, but older ones like Android Lollipop don't have this. Unfortunately, a lot of devices are still on this older OS. How do you encrypt your phone and protect your data with your screen lock if that's the case? Just follow the steps shown below:
Step 1. Turn on the screen lock and use a passphrase, PIN or Pattern Lock. You can do this in Settings > Screen Lock under Screen Security.
Step 2. Go back to Settings > Security on your device.
Step 3. Plug in the device and keep it plugged in. If you lose power during the encryption process, you may lose some or all your data. The process could take up to an hour or more.
Step 4. Tap on Encrypt Phone, read the disclaimer and tap on the Encrypt Phone button at the bottom.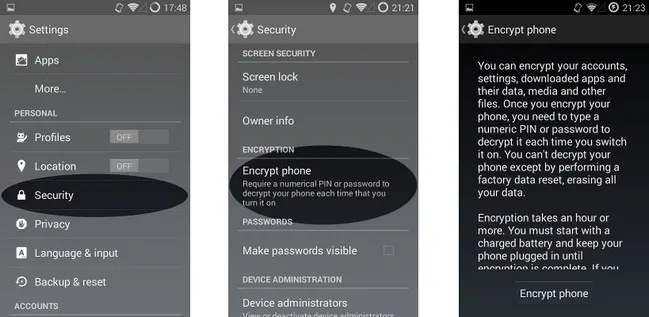 After confirming that you want to encrypt all data on the phone, the device will be fully encrypted. Now, whenever you unlock your phone, the same key will also be used to decrypt the information. That could slow down the performance on your phone significantly. In addition, every time the device powers on and boots up, you will need to enter the security code or password to access it. However, we recommend that you don't sell the phone in this condition. First of all, the buyer won't be able to use it unless they do a factory reset. Besides, even if they're okay with that, your data is exposed to recovery even after the reset, as we discussed earlier.
Part #4: How to Wipe an Android Phone Clean Remotely
Remotely locking or wipe an mobile device was originally introduced by Apple and widely used on iOS devices. It is great protection when the device is stolen or lost. Now this feature is also available on Android with the effort made by Google. It means you can wipe an Android phone remotely once Find My Device option is enabled on the device.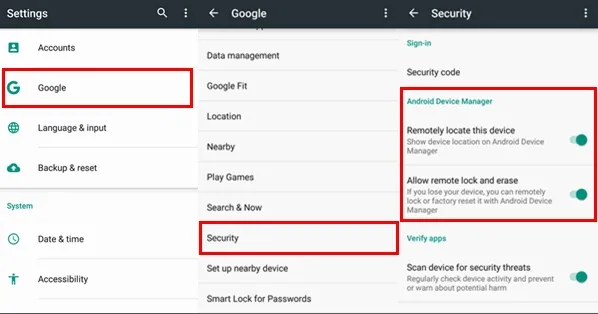 How to wipe Android remotely? First, add a Google account on Android and enable Find My Device on Android. After that, you can see the device status on android.com/find. When the device is lost or stolen, go to that webpage and click "Erase" button to delete personal data from the device.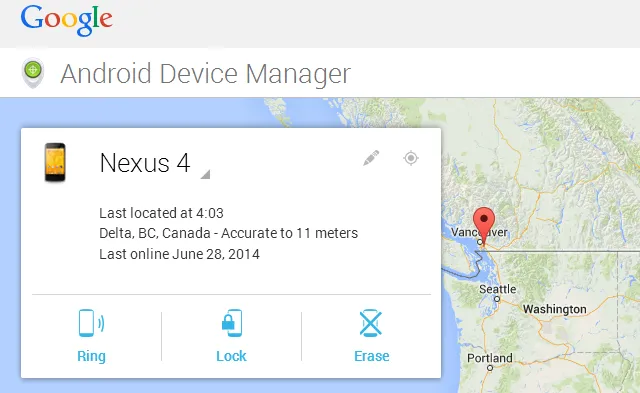 This won't work if the device was not connected to Internet. Please be noted. Actually, this operation is similar to factory reset so it is not that secure either.
Part #5: Wipe Android Phone with Broken Screen (Forgot or without Password)
How to wipe Android if the screen was broken or you forgot the password? This happens sometimes and we need an solution to this problem. However, it might be challenging for a lot of people who are not familiar with Android tweaking.
In fact, many Android users dislike the stock appears and want to do it own tweaks becasue Android is open source. This can be done via ROM flashing (like reinstalling a computer OS). The whole disk will be formatted and partioned on Android during the process. Only power, Volume Down and Volume Up button are needed to complete the task. So you don't need a screen or password at all.
How to wipe an Android phone without password? First download an Android ROM (MIUI for example) from web and boot the Android phone into Recovery mode. Now wipe the cache partition and install the ROM to the device. However, it will fail if the bootloader is locked by the manufacturer.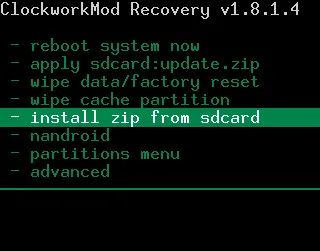 Conclusion:
This post covers all the possible solutions for wiping an Android phone or tablet. If you didn't care much about the data privacy, a factory reset is fine in this case. For secured means, FoneMoz Android Eraser does a much better job in protecting the data from hacks or cracks. So it is all up to you.