If you have been using Samsung phone for a long time, then it's time to clean it up. In fact, app cache and junks build up over time and take up a lot of system resources on your device, thus slowing down the performance. If you have recently noticed that your phone is getting sluggish, you need to uninstall the apps that you no longer need.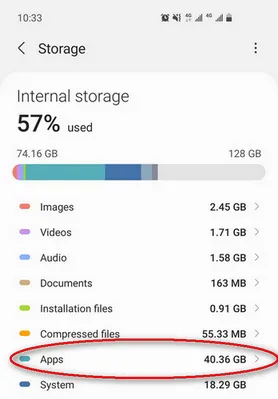 The good news is that almost any app you install from Google Play Store or a third-party source can be removed in seconds and the process is pretty simple. The only app that cannot be deleted are pre-installed apps, which show up the first time you access the main menu and are a part of Android operating system.
Fortunately, many of these system apps can be disabled. This will removes them from main menu and prevents them from using device's system resources.
This guide includes our step-by-step on how to uninstall apps from Samsung phone. We are going to use Samsung Galaxy S10 in the section below, and the process should work for all Samsung Galaxy models.
The Easiest Way to Uninstall Apps from Samsung Phone
Deleting apps has been a simple task on latest Android systems. This can be done in less than 5 seconds.
Step 1: Unlock Samsung phone and locate the app location on your phone.
Step 2: Tap the app icon for 2 seconds and you will see a pop-up window.
Step 3: Click Uninstall option to remove this app from Samsung phone.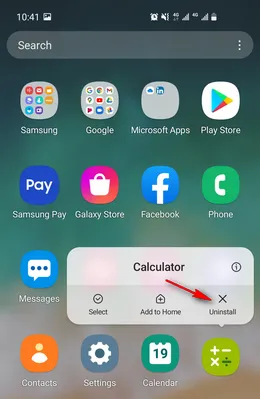 You can also remove an app from your home screen without having to uninstall it entirely. To do this, tap and hold any app icon until a pop-up menu shows up and hit "Remove from Home".
The above trick does not work for system apps. Uninstall option is not showing up when long tapping the app icon. Here is the screenshot for that (Galaxy Store app). Please don't worry about this. We will let you how to uninstall preinstalled apps in below section.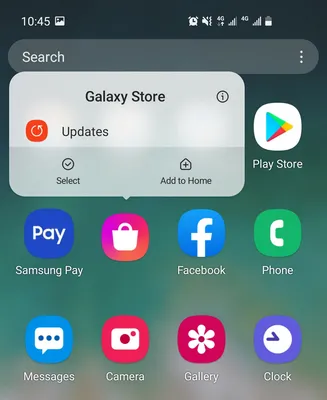 How to Remove Apps from Settings on Samsung Galaxy Phone
You are unable to see any information about the app from desktop screen during the uninstallation process. If you want to know how much storage an app takes and delete those apps that eat up internal storage afterwards, then it is more helpful to get this done from Settings.
Step 1: Grab Samsung smartphone, then open the Settings app and tap Apps. You will see all the apps on this phone as well as the storage space they occupy.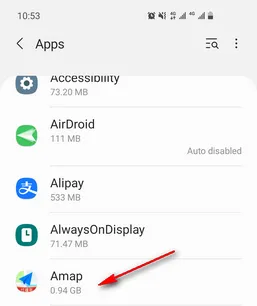 Step 2: From the list of apps, select the app you wish to uninstall.
Step 3: Now tap Uninstall at bottom to remove the app from your device. You can also choose to delete app cache to remove any leftovers.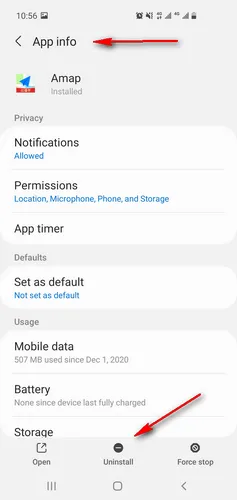 How to Uninstall System or Preinstalled Apps from Samsung Phone
As mentioned above, some apps cannot be removed entirely from your device as they are the system apps your device cannot live without. Deleting some of them could causes irreversible damage. So, we recommend you be cautious when it comes to removing built-in apps. Disabling an app won't delete it entirely and it still takes up some storage space, but at least they won't slow you down. Currently, the only way to delete a system app is to root the device, which is very dangerous and could brick your phone. Based on the fact, we do not recommend doing it for safety reasons.
Step 1: Open Settings app from home screen and then tap Apps.
Step 2: From the list of apps, select the system app you wish to disable.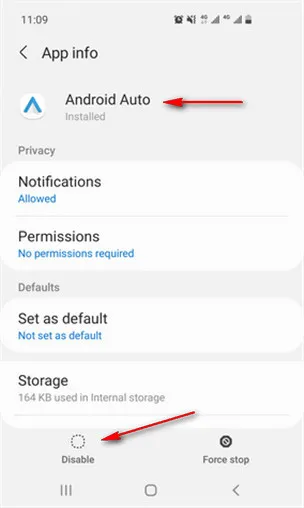 Step 3: Hit the Disable button. You can also disable an app by tapping and holding that app icon until you see the pop-up menu. From here, hit the Disable option. If it is greyed out, then you cannot disable or remove it, as it is essential to the proper operation of your device.
How to Bulk Delete Apps on Samsung Phone
If you are looking for a solution to bulk delete apps from Samsung phone, then FoneMoz Android Transfer is good to go. In fact, you can install app from APK file, uninstall apps, and export app data within the software.
When you first open the app, you should be impressed by its clear and intuitive user interface. You should see its two main functions, including device management and data handling. Each section features a preview function, giving you a glimpse of what it offers.
In terms of pricing, the tool now costs under $30, a reasonable rate for a comprehensive and advanced tool.
Bulk delete apps from Android phone.
Safely backup personal data to computer.
Restore or recover lost data from backup file.
Permenantly erase content from Android phone.
Easily transfer files between computer and Android phone.
Step 1 – Install Android Transfer Software on a Computer
FoneMoz Android Transfer is available for Windows and macOS platforms. Please download a copy on your computer and open it after installation.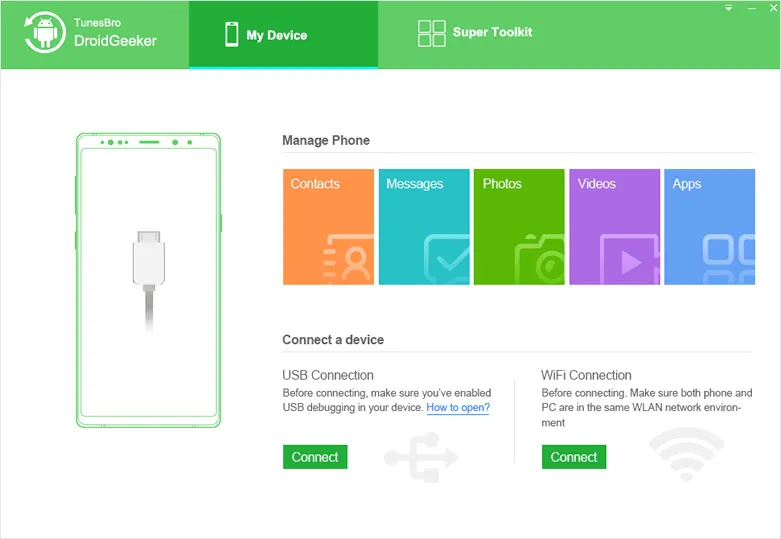 Step 2 – Connect Samsung Phone
Android Transfer should recognize Samsung phone and display detailed information about it. If your device is not recognized, then there is a good chance that you have not enabled USB debugging. To do this, head over to Settings > Developer Options > USB Debugging and turn it on.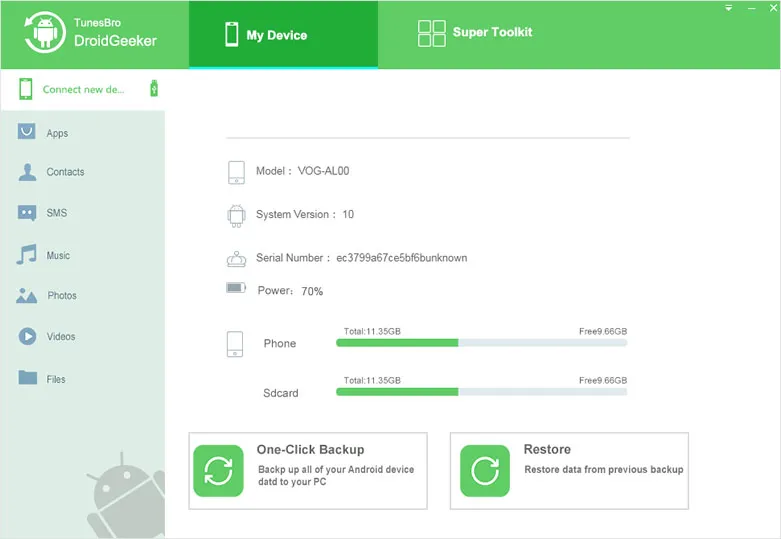 Step 3 – Select and Bulk Delete Apps from Samsung Phone
Click Apps icon from left-side bar and then you will be presented with three options including install APKs, uninstall apps and export app data. From here, select the apps from list and click 'Uninstall' to remove apps from Samsung phone.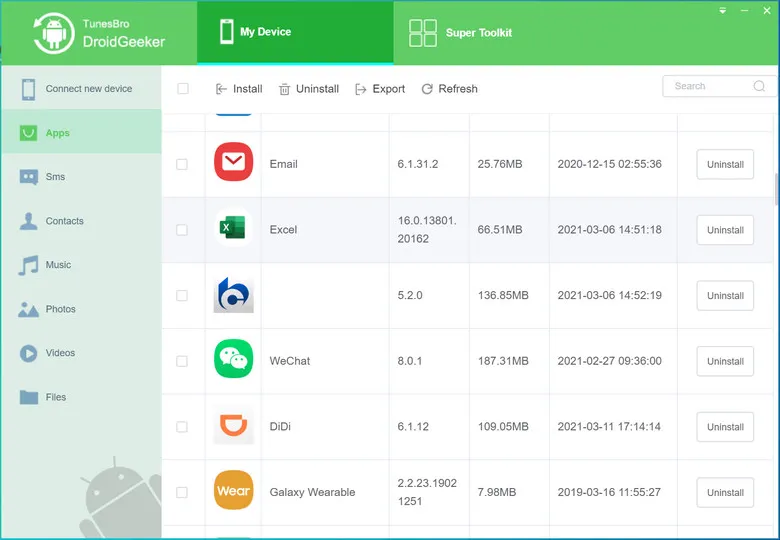 Note that FoneMoz Android Transfer won't allow you to uninstall system or preinstalled apps. If you want to disable them, use the above listed above. Uninstalling a system app requires the device to be rooted. That is something we won't recommend. Rooting comes with risk as your device may result in unusable and data loss.
Conclusion:
This is a complete tutorial for uninstalling apps from Samsung phone. You can pick up one from above list according to your own preferences. For bulk deletion, FoneMoz Android Transfer is the best choice out there.