As a long time Samsung smartphone user (Galaxy S7/S10/S20), I have to say using Samsung phone is always an exciting experience. Along with Apple and Google, Samsung has managed to dominate the smartphone segment for the last decade. Every year, Samsung's flagship device gains a lot of media and press coverage and Samsung loyalists tend to immediately upgrade. However, Samsung is also known for its range of mid-level phones which are not only affordable but also deliver on a host of features. Having said that, one issue that continues to plague modern-day smartphones is that of phone storage.
While we would all love to own a 256GB phone, the reality is that phone brands tend to charge an exorbitant price just for additional storage. Which is why we often end up settling for the lower storage options. Additionally, applications and games tend to bloat with every passing year. As a result, if a 64GB phone is sufficient for a medium-level smartphone user in 2018, it might not be enough in 2020. In such a situation, it might be necessary for users to sometimes figure out ways to free up space on their smartphone in a pinch. You might be looking to download a massive game or maybe you simply need to free up some space for videos, whatever the case may be, here are some ways in which you can quickly free up space on Samsumg smartphone.
How to Free Up Space on Samsung Smartphone via Manual Cleanup
Modern day smartphones are extremely intuitive and Samsung is no different. They come preloaded with a bunch of useful applications and you have thousands of other apps available at the click of a button. The phones can perform a range of different functions and usually when you buy a new phone, you can use it for a few months without worrying about running out of storage space. However, in time you might end up using up a lot of your device's internal storage without realising it. Here are a few ways in which you can dive into your phone and free up unnecessary files.
Below is a snapshot of the storage graph on my Galaxy S10 phone. Apps and files fill up the storage most.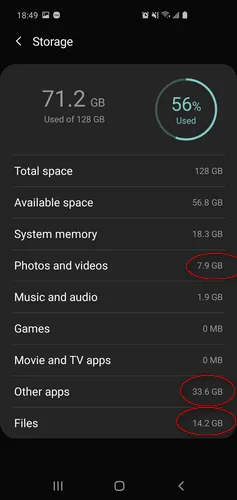 Delete Photos and Videos : One of the most powerful features of Samsung smartphone is taking photos and videos. We often keep hundreds of photos and videos on Samsung smartphones and never look at them again. And they eat up storage sharply. If you want to free up some space, go through the gallery and delete some unwanted pictures or videos. Don't forget to visit the gallery's Trash folder and permanently get rid of the deleted photos.
Uninstall Apps: Applications and games too have a way of building up. While going through your phone you might end up coming across a bunch of applications you never use. Long click on them and select the 'Uninstall' option to delete them from the phone.
Remove Downloaded Files: Most of the downloads are useless after the download is completed. And it is one of the folders that occupies most of the storage. Keep the download files you still need them and delete the others without no usage anymore.
Manual cleanup is one of the most effective ways to free up space on Samsung smartphone and it is easy to get it done. If this took much time, then you can delete the items on a computer after connecting the device to a computer. This can save a lot of time with less mistakes.
Delete App Caches to Free Up More Space on Samsung Smartphone
Ask any tech expert about freeing up space and the first thing they will tell you will be to get rid of the temporary files generated by installed apps. Every application you use and website you visit, tends to save some information in your phone in the form of cookies or tmp files. These cookies and tmp files actually help them more than they help you and over time, they can build up to occupy a significant amount of space. Here's how you can delete temporary Files on Samsung phone. Here, taking Samsung Galaxy S10 as an example.
Step 1: Power on Samsung Galaxy S10 and open 'Settings' app.
Step 2: Scroll download the screen and tap 'Apps'. Wait for a minute, and you can see all apps on this phone along with the storage space it occupies.
Step 3: Now tap on the app name that take up big storage (mostly for social media apps and games). From the new window, the system shows you how the stoage being used by the app. And at the bottom of the window, you will get two options. Please click on 'Clear cache' and at this point you will get a pop up asking you to confirm if you want to get rid of all your cached data. Do not hesitate and clear out the app cache.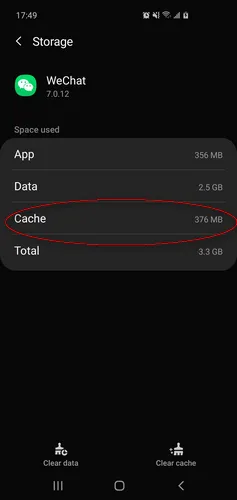 This is a process you should repeat every few weeks and ensure your phone stays clean and light. You can also download third-party apps to do this for you. Some of the latest Samsung devices have something known as 'Smart Manager' that lets you figure this out with just one click.
Free Up Space on Samsung Smartphone by Backing up Data to Cloud Drive
Cloud drive has been playing an important in our daily no matter you are using a smartphone or computer. The most famous one among Android users is Google Drive. All Samsung phones run Google's Android OS and come loaded with a bunch of native Google applications. Google Drive in particular is particularly useful if you are looking to backup some of your phone's data, like photos, music or videos. You will get a 15G storage for free and it is enough for most of the cases. If you ever find yourself in a situation where you urgently need to free up some space and don't have access to a computer or memory card, uploading data to a Google Drive will be your best bet. Here's how you can do it.
Step 1: Download and launch Google Drive on Samsung smartphone.
Step 2: Login to Google account. Hit the '+' button on screen and you will now be taken to the file manager on Samsung device.
Step 3: Start selecting all the large files you want to backup to Google drive and upload them.
Step 4: After uploading, you can now delete the files from your phone and temporarily free up Samsung device.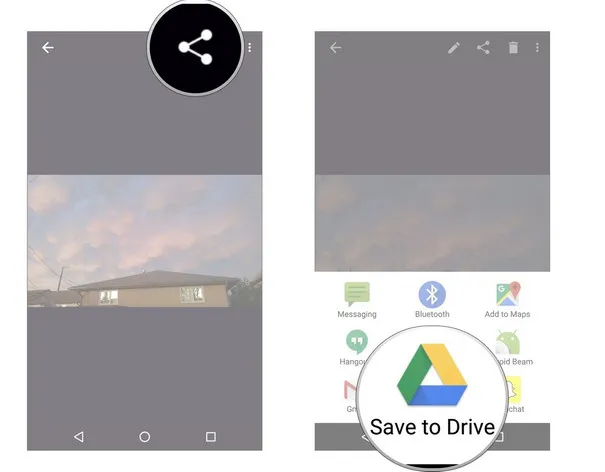 Using Google Drive is a good option to free up space on Samsung phone. However, Google offers limited free storage. You can also does the same with other cloud services such as OneDrive, iCloud, which also offer free storage for each account. Moreover, you might not want to upload some of your personal and sensitive data to an online destination. It's important to weigh the pros and cons before proceeding with something like this.
Quickly Free Up Space on Samsung Smartphone with the Help of Android Eraser
The above suggestions are 100% working on all Samung smartphones. However, there is a common drawback for all of them. You need to take a lot of time in picking up the items to be deleted because of limited screen size on a smartphone. Unfortunately, we need to free up space on Samsung devices from time to time. Is there any way to accelerate the process?
FoneMoz Android Eraser is the perfect one that saves your time and effort spent on data cleanup by automating the entire task. It can quickly identify all private data on the phone and delete them in bulk. Most importantly, the storage will be free up instantly after deletion. And you can free up tons of space within several clicks.
Scan tmp and junk data quickly.
Delete hundreds of items at one time.
Spend much less time on this boring task.
No trace left after deletion.
Support latest Samsung smartphones as well as old models.
Step 1 – Install Android Eraser Software on a Computer
First, download a copy of FoneMoz Android Eraser and follow the instructions to install the software on a PC. The program will be opened in default after installation is finished.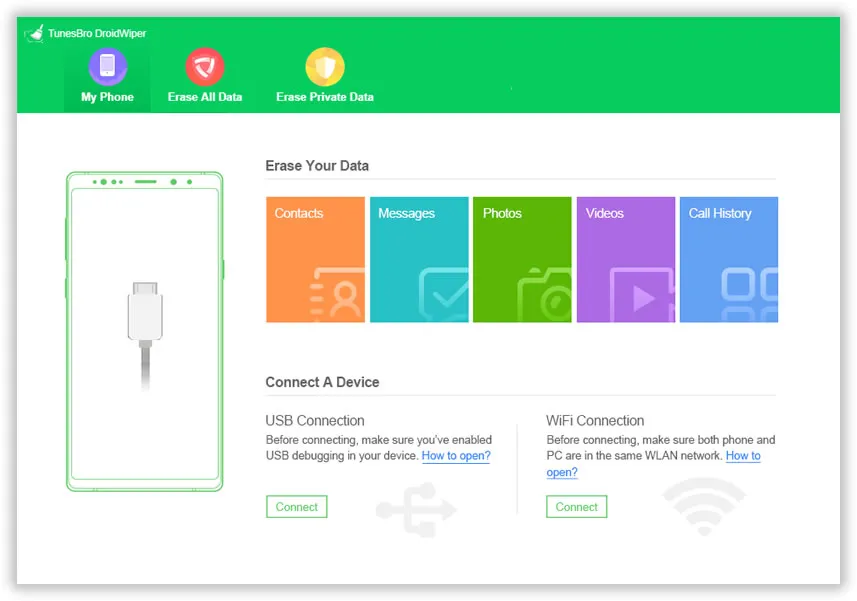 Step 2 – Connect Samsung Smartphone
Now plug the Samsung smartphone into the computer where Android Eraser is installed. Go to the file explorer and check whether the phone is recognized by the computer or not. Also make sure USB debugging is turned on Samsung smartphone. Upon success, you will see the general information about the connected device.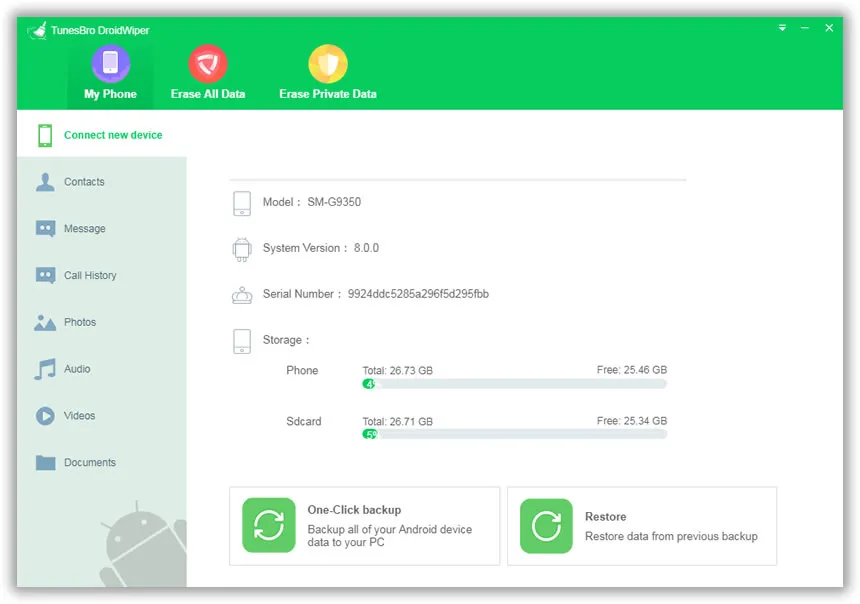 Step 3 – Scan Samsung Smartphone
Click the 'Erase Private Data' option displayed at the top to let the program scan all data stored on that phone. This will take a few minutes and it is mainly dependent on how many files sitting on the phone.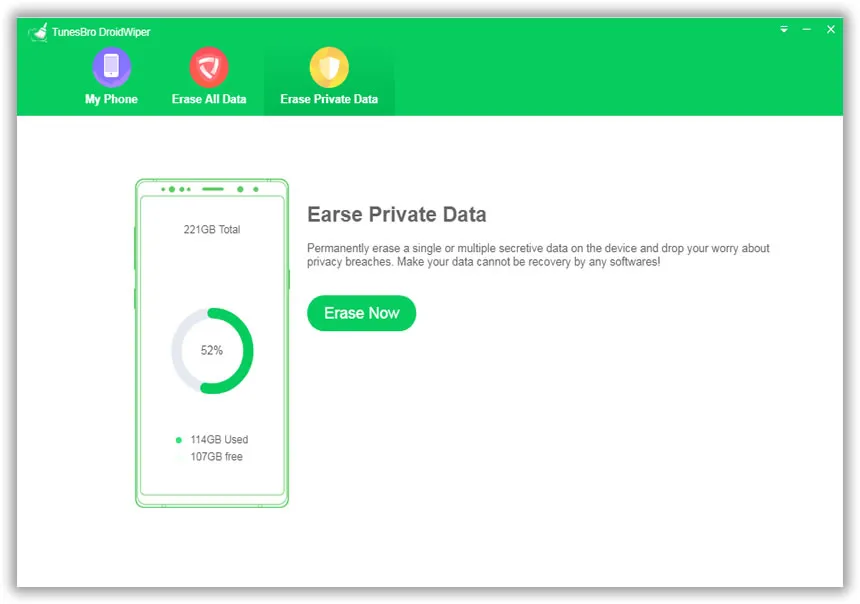 Step 4 – Delete Files and Free up Space
Once the scanning is completed, all private data are groupped into different categories. Move to the tab name on the left and select the items to be deleted. Finally, click the 'Erase' button to start deleting the selected files. Once it is done, the free storage will be boosted dramatically.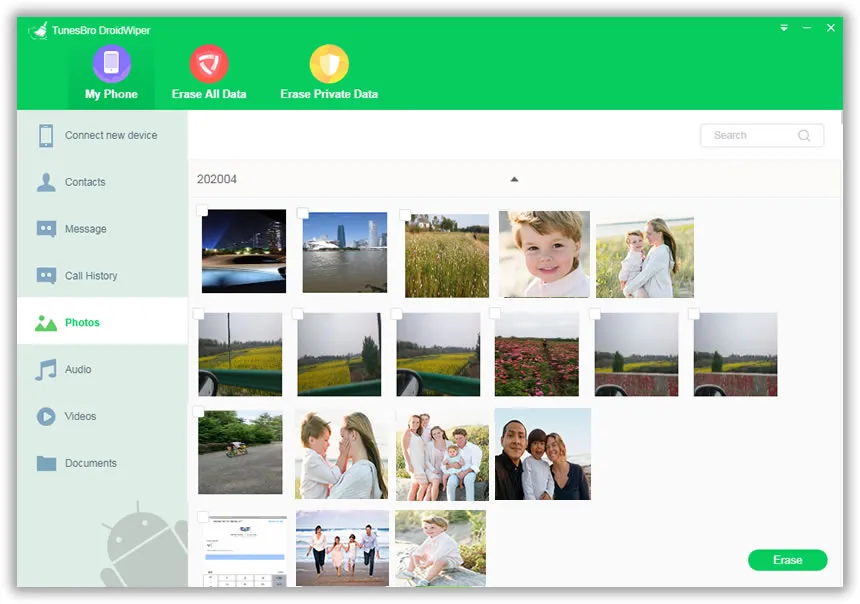 The deletion is permenent and no way to retrive any information from the device. That's the best part of this suggestion in regards of data security. So it is highly recommend using this app to erase Android data before selling.
Wrapping up
These are just a few quick-fix solutions you can use to quickly free up space on Samsung phone. However, if you are looking for a more long-term solution to this storage issues, you might have to consider using FoneMoz Android Eraser or investing in an SD card. In case your device doesn't support additional storage, you will at least have to look at backing up all data to a computer instead. However, the data is not easy accessible any more.