WhatsApp is a big name in instant messaging service market. First released back in 2009, WhatsApp quickly gained its popularity out there, surpassing Yahoo to become the fan-favorite messaging app. WhatsApp is getting better and better every year, with the company adding more features to the platform in an attempt to compete with Viber and Line.
In 2017, WhatsApp added the ability to delete and unsend messages. The feature was widely welcome by users and tech experts at launch. Specifically, you can delete any messages in individual or group chats if your messages you sent contain a mistake or may get you in trouble. The coolest part is that the "unsend" feature works for attachments like photos, voice messages, Gifs, videos, etc.
However, there are several limitations to the feature. In fact, when you successfully deleted a message, both you and the recipient will see "This message was deleted" notification in the chat. This means they will know that a message was recalled.
Another limitation is that a message has to be deleted within the next 7 minutes. In fact, there is a workaround for deleting sent WhatsApp messages if you have exceeded that time-frame. I will mention that later.
In this tutorial, I am going to show you the steps on how to delete WhatsApp chat history on Android. Before we begin, make sure that you and the recipient now have the latest version of the WhatsApp app.
How to Delete a Single WhatsApp Message from Android Phone
Deleting a WhatsApp message is so simple and it takes a few steps. Here is how to do that.
Step 1: Open WhatsApp app on your Android phone and then locate the chat or group chat that contains the message you want to delete.
Step 2: From here, press and hold on that message and hit the Trash icon at the top sidebar. You will be presented with 3 options, including Delete for Me, Cancel, and Delete for Everyone.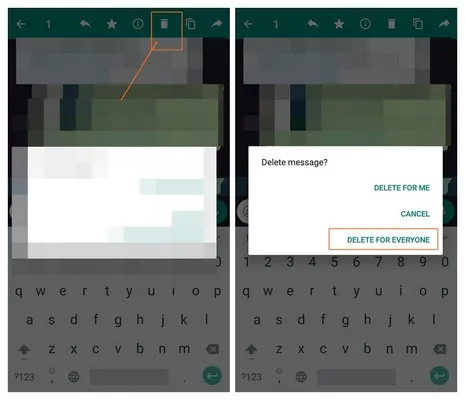 If you select "Delete for Everyone" option, the message will be removed from the chat on your phone and the recipient's phone. However, if you go for the "Delete for Me" option, the message will disappear from your side only, meaning that the recipient still can see it.
How to Delete WhatsApp Chat Histroy from Android Phone
Deleting an entire WhatsApp chat is pretty simple and similar to how you remove an individual message. All of messages in selected chat will be wiped from Android phone.
Step 1. Launch WhatsApp app from home screen and then select the conversation you want to delete from the list.
Step 2. Press and hold on that conversation and hit "Delete chat" option from pop-up window.. From here, tap "Delete" to confirm the action.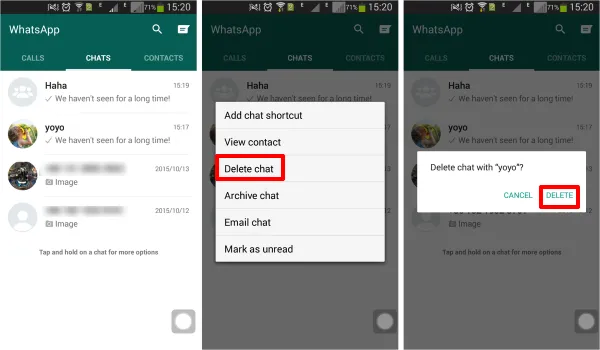 Notice: All WhatsApp messages and chat history are stored in a local database of Android phone's internal memory. The above deletion is unable to permanently remove message or chat from Android. This mean the deleted messages or chats are still recoverable. This is dangerous if you would sell the phone to others. To fix this, we recommending to use professional data erasing software to protect your data. You will find the details in below section.
Bonus: How to Delete WhatsApp Messages after 7 Minutes
A WhatsApp message can be recalled from your phone and recipient's phone within 7 minutes. You may be wondering if you can erase a message if the 7-minute timeframe has passed. The answer is Yes, you can do it, but not with a single tap. The process involves changing the date to a time before a message was sent so you can delete a message after the time limit.
Step 1. Turn off Wi-Fi and mobile data on Android phone and then open Settings app.
Step 2. Next up, adjust time and date, and launch WhatsApp app on Android phone.
Step 3. From here, select the message you wish to remove and then select "Delete for Everyone" option.
Step 4. Once you are done, go back to Settings app and reset time and date.
How to Delete WhatsApp Chat History Completely from Android Phone
There are a number of tools that help erase WhatsApp chat history completely from Android phone. However, not all of them are trusted, as some are not working as promised. They use some kind of suspicious software to hack into your device and steal your data. As a result, your personal messages fall into the wrong hands. I highly advise against these services.
However, if you are desperately looking for a third-party app to safely delete WhatsApp chat history, then give FoneMoz DroidErase a try. This is the number one app when it comes to erasing Android data. The process is simple and you can follow my steps below.
Step 1 – Get Prepared
Step 2 – Install FoneMoz DroidErase App on Android
Step 3 – Choose Data Erasing Option
Step 4 – Start Deleting WhatsApp Chat History Completely
If you just want to delete only a few messages of WhatsApp chat, please first follow the tips in front section of this post. After that, delete a single photo or other media file with DroidErase. By doing this, all deleted WhatsApp messages and chat history will be re-deleted from cache. Hence, they can not to be recovered.
The Bottom Line
Data security is our primary concern! It is really important to know how to delete WhatsApp chat history from Android phone completely as it is one of the most used apps in our daily life. We have the responsibility to make sure all private data are under solid protection.