If you are tired of receiving spam on Gmail, or you want to get rid of your old email ID and create a new one, then you can delete your Gmail account permanently. In this tutorial, we will show you how you can do this from your Android phone.
Steps to Take before Deleting Gmail Account in Android Phone
Once a Gmail account is deleted permanently from Android, this account will be gone forever. So are the emails and attachments that you have received. It is a good option to take a backup of Gmail account before deleting it. First, we will show you how to backup Gmail data from Android phone, then we will show you how to delete Gmail account on Android.
Google Takeout is a tool using which you can take a backup of your data for all of Google's services. Go over to the Google Takeout page using the following link(takeout.google.com). You might need to sign-in with your Google account credentials.
Under the Select data to include section, click Deselect all. After that, scroll down the screen and check the box beside Mail.
Click on Next step to move. In the new page, select Send download link via email under Delivery method; and then select Export under Frequency tab once. Finally, scroll down and click on Create export.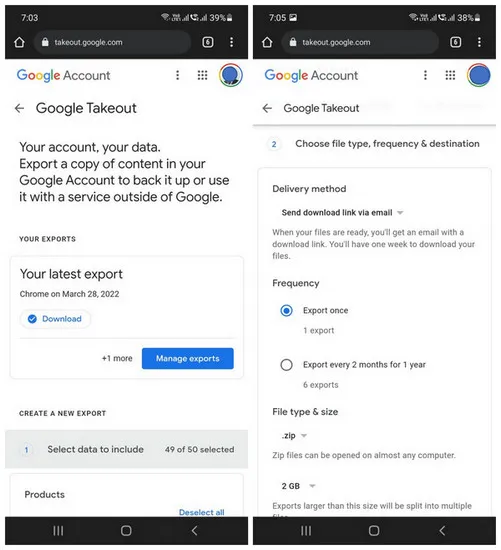 This should send an email to that Gmail account with a backup of all your email data. That email will contain a link using which you would be able to download the data on an external storage device.
After you have clicked Create export as mentioned in step 4, it would only take a few minutes for you to receive the email with the download link for your data. If you have a large amount of data, I would suggest you to access the email from your PC, then save the data on a hard drive, otherwise you can save the data on a memory card of your Android phone.
How to Delete Gmail Account in Android Phone
Once you did a backup of Gmail email data, it is time to go ahead with the task of deleting Gmail account permanently from Android phone. However, this process is irreversible. So, once deleted you will not get your account back. This is the time to rethink whether you actually want to go ahead with this. Next, follow the below steps to delete Gmail account on Android.
Go over to the Settings app on your Android phone and then scroll down the screen. Now, tap on Google menu to get to the settings page of Google services. At the top of the page, tap on Manage your Google Account.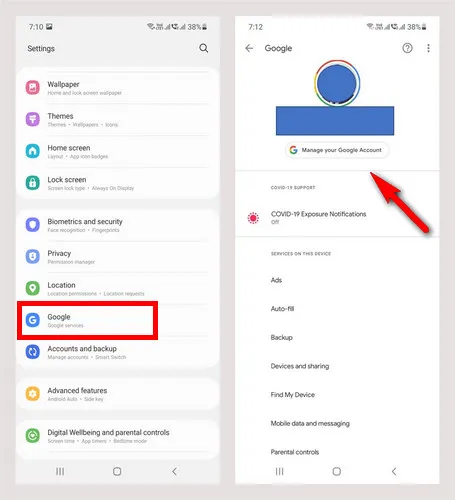 This will open Google Accounts page. Here, you need to tap on Data and privacy. Scroll down on this page to find Delete a Google service option.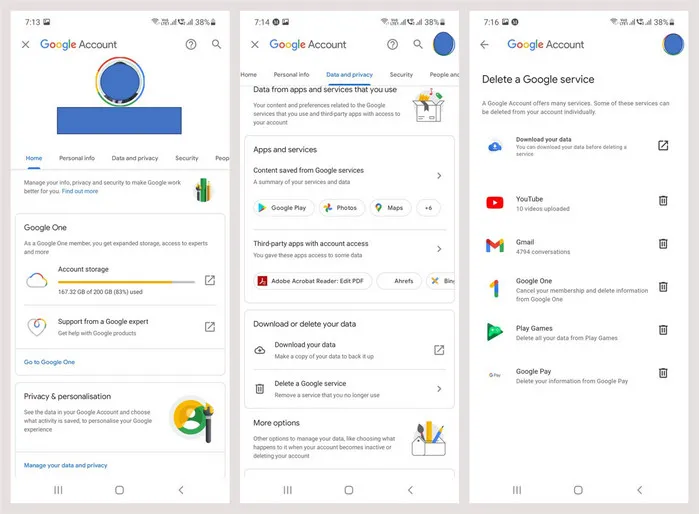 Click on it to go to the relevant page. You will have to enter your password. Once done, you'll find a list of Google services that you can delete. Click on the Trash Can icon beside Gmail.
Finally, follow the instructions on the screen and you should be able to delete Gmail account from Android permanently.
Once the Gmail account was deleted on Android, all email data and email settings would be removed as well. You can also apply a similar process on a PC in case you don't want to do it through Android phone.